Friday night far from Home
My phone blinks repeatedly with news alerts of an unfolding plague. I read them two, three times and still struggle to believe what I'm reading.  Gunmen and suicide bombers are on a killing spree across my adopted city. It's a city I have not only come to love like no other; I've persuaded the woman of my dreams to start a new life there.  Now she's somewhere in Paris and I'm unable to reach her.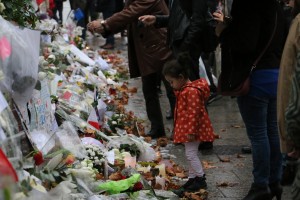 I'm assailed with more and more details of a merciless campaign, but cannot get the one answer I need most. A football stadium in the north of the city has been bombed. Young people at a rock concert up the street from where I lived for years have been shot dead. The unending stream of updates suggests more is to come.
Edited version appeared on Al Jazeera 20 Nov. 2015
I use all electronic means I can get my hands on to ask if Esther is okay. Surely horrors so random cannot touch someone so dear. It all seems far-fetched and I'm waiting, shall we say, for a clarification. This is Paris, after all, and Charlie Hebdo was an aberration, a bloody blip in its vibrant but decidedly civil existence.
Paname's streets are nods to the philosophers, artists and thinkers that walked them. Who among us is untouched by their vast artistic and intellectual influence?
This is suddenly beside the point.
Much of the carnage – dozens killed or injured so far – is wrought at the Bataclan concert hall in Boulevard Voltaire, named after a man who stood for everything these nihilistic frauds do not: reflection and rigorous debate, so devoted to the free expression of ideas that he'd sooner bear the withering criticism of an adversary than live in a world where opposing ideas are forbidden.
So foreign is this love of wisdom – the very definition of philosophy – that one wonders whether the killers chose the address to drive home the point, if it weren't sufficiently clear already: barbarism above all else.
I pace my Maputo hotel room in a torpor of what feels like total uselessness, as murderous miscreants lay siege to my city, like thugs in a cathedral.
Still no answer.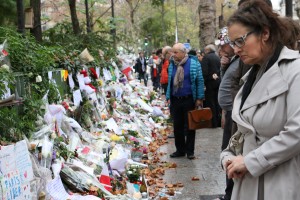 For two years, Esther and I courted across continents, using skype, Facebook and WhatsApp. If it was hard to endure the months apart, at least we had the comparative luxury of checking up on the minutiae of each other's life. "Dormiste bien mi vida?" "Sleep well, my life?"
We learned each other's languages, lest there remain some hidden dimension, charm or tic that I fail to discern by knowing her only in English.
She came to Paris to be with me.
I've been on assignment in southern Africa since last month, unaware that as I packed my bags, at least three teams of attackers were plotting half a dozen strikes in the east and north of the city.
The death toll is rising.
What I dismissed as an absurdity has entered the realm of the real. Le Figaro has reported that more than 60 people have perished. Graphic details appear in Le Parisien.
Hostages are being held in the Bataclan, a concert hall next door to the café of the same name, one of my favourites. I lived five minutes away in the 11th arrondissement – earthy, unpretentious and like most of Paris, safe.
Further down the street I have my bike tuned-up by a man who hires young guys with special needs to build up skills in preparation for the job market. Cafés of all sorts line the boulevard, from the down-at-heel to the well-to-do.
Why is she not answering? Urgency and irritation are seeping into my messages.
More attacks near Place de la République and Nation, where I go to the gym.
The death toll has leapt once again. What began as a long-shot that anyone I know might be affected is now a frantic search to see that everyone is accounted for: friends and family are seeking each other out; we're sharing messages of an intimacy and honesty that hints at unspoken fears that worse is yet to come.
Still no answer. I'm beginning to feel ill.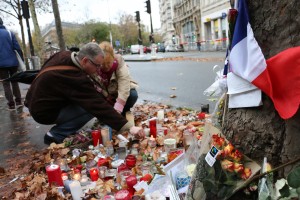 The benefits of yelling at an empty room are short-lived.
Random memories from the 11th appear like short-circuiting images from months and years gone by.
Just outside the Bataclan I once found a wallet containing several copies of the same business card, and called the number.
Small gestures in Paris – a man picks up papers in a windy street for a woman carrying her daughter in one arm – elicit quick and genuine thanks. Prompt, polite and direct: Merci monsieur, Merci. Not effusive, but genuine, eye-to-eye.
As attackers targeted a football stadium in the north end and mowed down revellers in the east, their peers massacred people dining at a restaurant on Rue de Charonne near Bastille.
Esther could be anywhere.
I summon the voices out of my head, for clarity.
"It's not yet been an hour," says one.
"And she is no news junkie," says another.
"True," I nod. "She is more issue-focused."
One block down Charonne from where we lived in a centuries-old converted convent, still more murderers attacked with cold-blooded nonchalance. A car is said to have pulled up. A man got out and riddled diners with bullets before getting back in, leaving behind 19 dead.
We eat, drink, shop and wander here.
The 10th, 11th and 20th arrondissements – where most of our friends live – are bursting with bars, bistros and busy cafés. One of the last bastions of affordable rent, Rue de Charonne is eclectic and stylish but free of the gloss that has made other areas uninteresting.
There's the loud, no-frills Chinese restaurant to which people flock from all over the capital; the Lebanese resto with a tabac up front; the sleepless Turk who provides internet, fax and office services in a tiny shop, fixing phones as you wait.
I've wandered the narrow lanes where craftsmen one imagines long gone, still ply their ancient trades. On a visit with mum, we happened upon and strove to leave, an elegant shop of curtain tassels, whose owner insisted on describing the innumerable intricacies of his abstruse trade.
One day, I stopped mid-step at the spot on Charonne where the killer's car would have parked. Eyeing my grocery bill, I was sure the young lady had made a mistake – it was half of what it should be. But a week or so prior, I recalled, the cashier had finished work and was overburdened with bags and boxes on the metro platform nearby. Some of them had burst. I helped carry her load, accompanying her on the metro until she was home. She later recognised me in the supermarket, but remained coolly cordial with colleagues nearby.
Thinking back to her gesture and subtle smile, I began to learn languages unspoken by the French.
Parisians' multiple levels of relating, their directness and sometimes surprising candour, their adult approach to indulgences, oddly coupled with quaint social codes – I revel in it all. I admire, too, the Parisian stoicism and defiance that will – must – bring the city back to life.
But the latest updates suggest this has become a crisis of a different order. Friends are exchanging messages of utter horror and incomprehension. Some are blaming French foreign policy.
Another is puzzling over why the Paris massacre is attracting more coverage than the attacks in Beirut and Baghdad. Part of the answer he reasons, is the story is all too familiar in the Middle East. In Europe it is rare and shockingly newsworthy.
His friend figures it's simply racism.
I suggest that some media are indeed guilty of reinforcing an imagined hierarchy of suffering, where some lives seem to matter more than others.
But proximity counts for a great deal. Those who are closest matter most.
Where is she?
I've resumed pacing my small room, distracted by details that draw the drama ever closer. A France 24 colleague is among the dead at Bataclan. Friends wait to hear from those who were there and at the other sites of mayhem.
I scan Facebook newsfeeds and messages but write little, except to my unanswering wife.
I'm tagged in posts, being called up from among the audience, a reluctant actor in a drama with no foreseeable end. I suppose I should announce that I'm alive.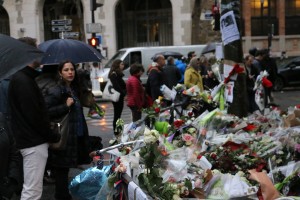 At last.
A little white box containing two words illuminates my overheating phone, loosens the knot in my stomach and freezes my dangerous imagination.
It's my wife.
"Que pasó?" (What happened?)
Esther – unencumbered by news apps and an unhealthy attachment to social media – was at her friend's house chatting over wine, blissfully unaware of what struck just a few kilometres away.No sooner have I let her in on what's happening than I've sown the seeds of panic.
The centre of my small universe is all but alone in my enchanted city of light, and I can do nothing for either. Just hours earlier I might have hoped to explain away the affair as some vague "explosions" that turned out to be false alarms. No one hurt. Police caught the culprits – case closed.
Instead, the true magnitude of the attacks, planned with a ruthless level of precision, is coming to light.
Friends write of being mere metres away from the attack. A colleague escaped the Bataclan, where young concert-goers were held hostage before the bloodbath began.
Days after the Charlie Hebdo attacks, singing millions took to the streets in unprecedented displays of solidarity.
Already as President François Hollande declares three days of mourning, Parisians have again flocked to the streets in open defiance, in the kind of solidarity that cheats the attackers out of their thirst for mass terror.
But some may still be on the loose.
Esther is now more abreast of events than I, and increasingly ill at ease. She is in touch with family back home, suddenly wondering whether life in Paris is worth the trouble. After all, this kind of thing doesn't happen in Chile.
I daren't taunt her that it's because few can find it on a map.
Not today.
In my haste to reassure her, I'm not sure I've taken the best approach, chronicling previous waves of attacks in Italy, Spain, Britain and Ireland that have come and gone, leaving the vast majority unharmed.
This too, shall pass, I promise.
What I don't say is that I would like to know how something so vast and destructive could be so well-orchestrated.
I'm bracing for an inevitable backlash, which will come from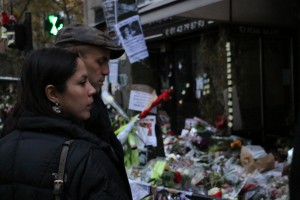 predictable corners. More importantly for us though, I'm heading home.
Before I board the plane to Paris, Esther has warned me to keep my cool.
I'll be subjected to heightened security and jumpy officials. She's right. Like any fastidious Parisian, I don't take kindly to lapses in politeness.
But I tend to listen to Esther.
Esther, I'm coming home.