Shortages Force Fishermen into neighbouring waters – and into danger
In this France 24 report we track down the Senegalese fishermen who were shot by the Mauritanian Coast Guard while fishing near the border.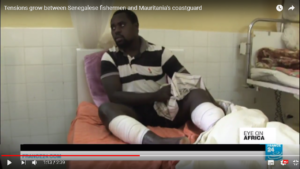 The Mauritanian authorities provide an extraordinary explanation.
One of the crew, shot in the spine, died in hospital.
The rising number of industrial vessels in the region has forced artisanal fishermen to venture further out – but that has put them in danger.